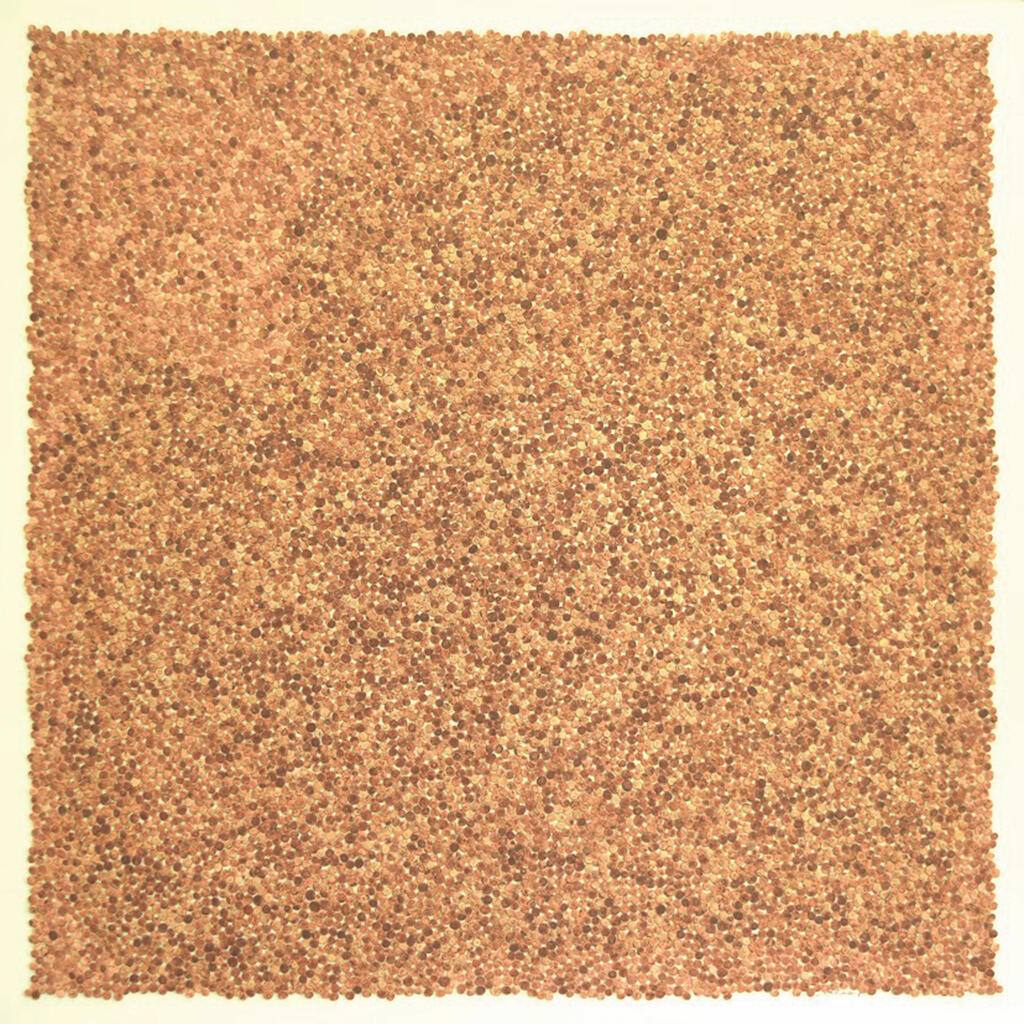 Accumulate
Mixed Media on Board, 122 x 122 cm, 2016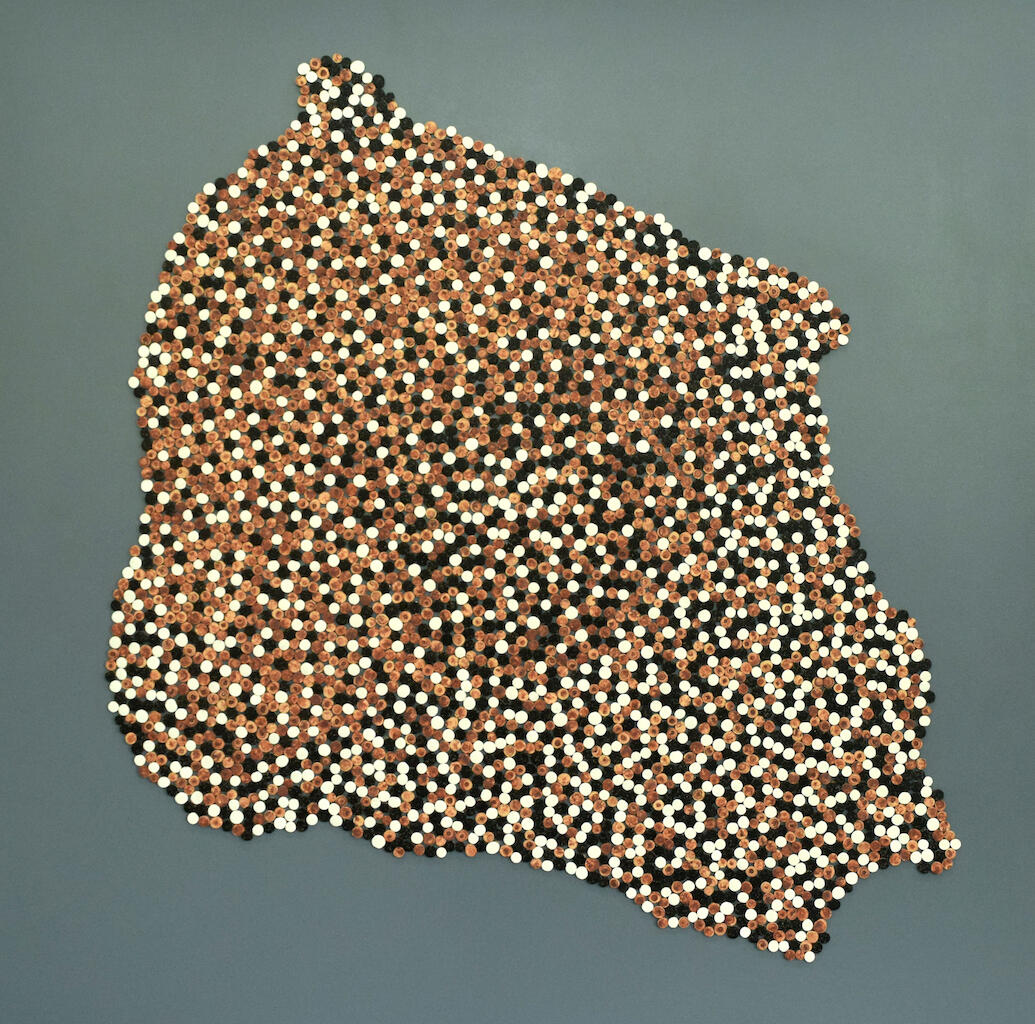 Form 1 – Seating
Mixed Media on Board, 122 x 122 cm, 2015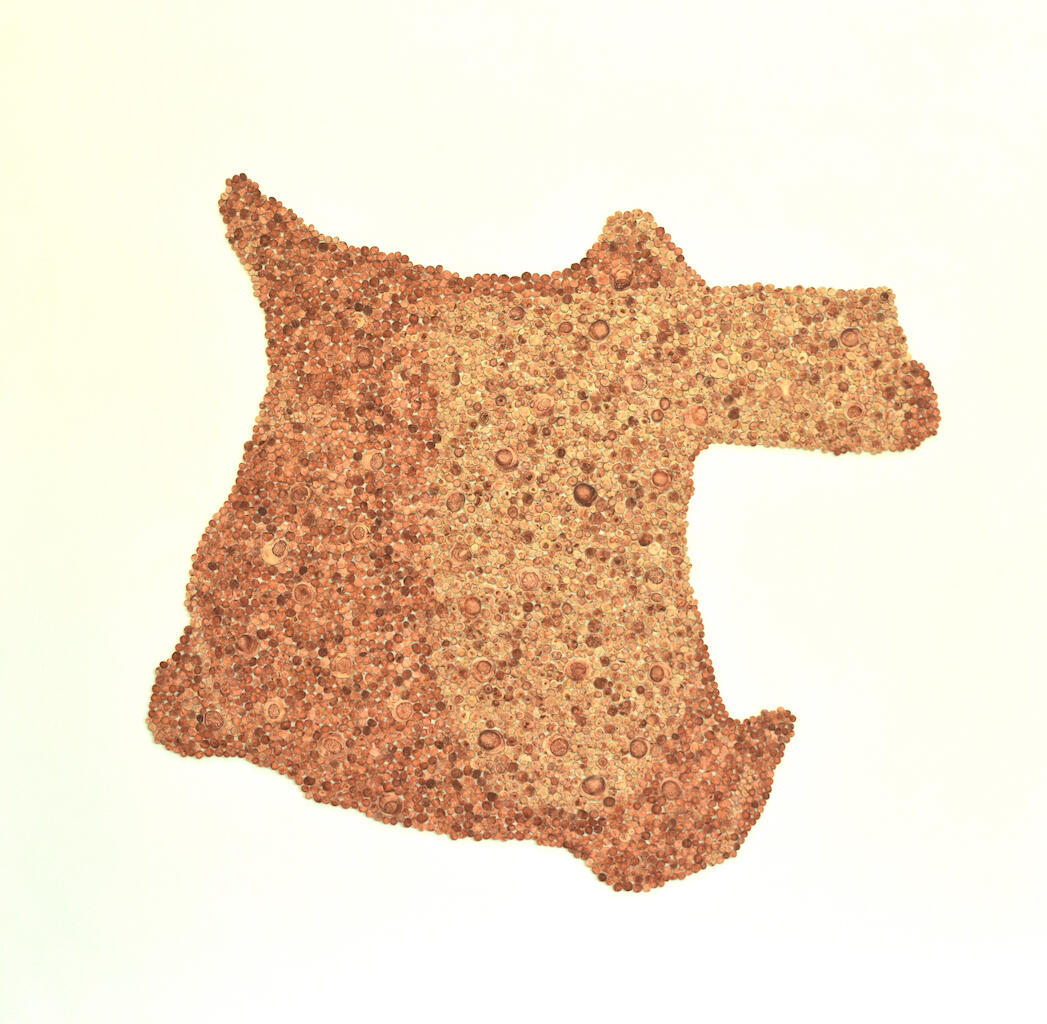 Form 2 – Leap
Mixed Media on Board, 122 x 122 cm, 2015
---
Education
2000-2002 MA by Project, London Metropolitan University, London, UK
2000 Teacher Training, Kensington & Chelsea College, London, UK
1996-1997 MA Design & Media Art, University of Westminster, London, UK
1996-1997 Student teacher at University of Westminster, Ceramics Dept.
1992-96 BA (1st hons) Fine Art, London Guildhall University, London, UK
1986-89 Diploma in Fine Art, Kuala Lumpur College Of Art, KL, Malaysia
Awards
1997 John Purcell Paper Award, London, UK
1997 Galleries Magazine Award Highly Commended, London, UK
1996 Owen Rowley Prize, 1st prize, London, UK
Solo Exhibition
2014 'In A Place of Wonder'. Weiling Gallery, Brickfield, Kuala Lumpur, Malaysia. 2nd June- 7th July 2014.
2009 'An Idyllic Space'. Weiling Gallery, Brickfield, Kuala Lumpur, Malaysia
2006 'Fact or Fiction'. Weiling Gallery, Brickfield, Kuala Lumpur, Malaysia
2004 '1/1'. Townhouse Gallery, Bangsar, Kuala Lumpur, Malaysia
2001 'Printing with Fire—prints on ceramics, glass & paper'. The Integrated Resource Centre, London Guildhall University, London, UK
2000 'Thought, a process of thinking'. The Clay House, Malacca, Malaysia
Group Exhibition
2017 Local Only. Taksu KL. 8th -25th Feb. Kuala Lumpur
2016 ARTAID 2016 LOVE FOR SALE. Whitebox@Publika, 1sr-7th Nov 2016, Kuala Lumpur
2016 The Past Is Never Where You Think You Left It. Weiling Contemporary, The Gardens, 12th July, Kuala Lumpur
2016 Transit A2. Hom Art Trans, 20th July-3rd August 2016, Kuala Lumpur
2015 Peasants and proletariasts, Xin Art Space, 15th May-15th June 2015, Kuala Lumpur, Malaysia
2015 The Space Between, WeiLling Contemporary, 21st March — June 2015, Kuala Lumpur, Malaysia
2015 Contemporary Propulsion : Influence and Evolution. G13 gallery, 11th – 31st March 2015, Kuala Lumpur, Malaysia
2014 Malaysia Tomorrow. Galeri Seni Mutiara, Penang. 12th -26th Oct 2014, Penang, Malaysia
2014 HO MIA, The Peak group show. Wei-Ling Gallery, The Gardens, Kuala Lumpur, Malaysia. 2nd June-8th July 2014.
2014 Malaysian Eye exhibition. Whitebox, Publica. 28th March-30th April 2014, Kuala Lumpur, Malaysia
2014 DRAWN. The Gallery@Starhill, 15th-30th March 2014, Kuala Lumpur, Malaysia
2013 Piece of Me. Whitebox, Map Publica, 11st & 12nd Dec 2013. Kuala Lumpur, Malaysia
2013 18@8 Mirror Mirror on the Wall. Weiling Contemporary, The Gardens, 3rd Dec 2013-16th Jan 2014, Kuala Lumpur, Malaysia
2013 16th Biennale Internationale De La Gravure De Sarcelles, 23th Nov – 8th Dec 2013. France
2013 Mid-Term. Shalini Ganendra Fine Art, 15th Jan-15th March 2013. Malaysia
2012 18@8:KUL-SIN. Level 4, ION Orchard, Orchard Turn, Singapore. 12th -19th Dec 2012.
2012 18@8:KUL-SIN. Weiling Contemporary, the Gardens. 21st Dec 2012 – 8th Jan 2013.
2012 Macau Printmaking Triennial. 17th Nov 2012-17th Feb 2013. Old Court Building, Avenida da Praia Grande, Macau
2012 Transit A4. HOM, 10th-20th Nov 2012. Kuala Lumpur, Malaysia
2012 Timeless. Wiling Contemporary, 4th Sept-10th Oct , Kuala Lumpur, Malaysia
2012 A Meter Diameter. HOM, 17th March-7th April 2012. Kuala Lumpur, Malaysia
2012 Thai-Malaysian Printed Art Exhibition. Craft House Museum and Art Gallery, Hatyai, Thailand. 4th -29th February.
2011 Multiplicity. Weiling Gallery, 7th – 30th July, Kuala Lumpur, Malaysia
2011 18@8 Save The Planet. Weiling Contemporary, the Gardens, 2nd Dec 2011- 5th Jan 2012. Kuala Lumpur, Malaysia
2010 Art Drum Project. MAP Arts Festival, Solaris Dutamas, Malaysia
2010 Once Upon a Time in Malaysia. White Box Gallery at MAP Art Space, 27th March – 18th April, Solaris Dutamas, Malaysia
2010 Heads Up. Weiling Gallery, 29th March -28th April, Kuala Lumpur, Malaysia
2010 Artriangle Show . National Art Gallery, 7th July – 7th August, Kuala Lumpur, Malaysia
2010 Tempo. The Gallery, StarHill, 3rd August – 30th Sept., Kuala Lumpur, Malaysia
2009 Go Block—Five Contemporary Malaysian Printmakers, Galeri Petronas, Suria KLCC, 5th Feb – 15th March, Kuala Lumpur, Malaysia
2009 Bangun-Penang Clan Jetty Art Projects. Penang clan jetties, Penang, Malaysia Melaka Art & Performing Festival, 27-29th Nov. Melaka, Malaysia
2009 18@8, Weiling Gallery, 7 – 31st Dec. Brickfield, Kuala Lumpur, Malaysia
2008 Man & God Beijing-8th International Visual Feast, 19th oct – 3rd Nov, Beijing, China
2007 Sama-Sama. Lost Gen Space, Kuala Lumpur, Malaysia
2006 In Print. National Art Gallery, Kuala Lumpur, Malaysia
2006 SIGNED AND DATED. Valentine Willie Fine Art, Bangsar, Kuala Lumpur, Malaysia
2005 Roaster Mania. Townhouse Gallery, Bangsar, Kuala Lumpur, Malaysia
2005 Art For Aids. National Art Gallery, Kuala Lumpur, Malaysia
2005 I Think. I Sketch. Ellesix Art Gallery, Damansara, Malaysia
2005 High Voltage. Lost Generation Space, Kuala Lumpur, Malaysia
2005 18 @ 8. Wei Ling Gallery, Brickfield, Kuala Lumpur, Malaysia
2004 NotthatBalai. Lost Generation Space, Kuala Lumpur, Malaysia
2003 4 Prints Art Exhibition. Ellesix Art Gallery, Damansara, Malaysia
2003 Philip Morris Malaysia Art Award Exhibition. National Art Gallery, Kuala Lumpur, Malaysia
2003 Art Sale. Ellesix Art Gallery, in associate with The National Cancer Society Malaysia
2003 888 INFINITY 2003. Aoyama Gallery, Kuala Lumpur, Malaysia
2002 Guildhall Gallery. Winchester, UK
2002 Print Works. London Guildhall University foyer, London, UK
2002 LIFE/size. PM Gallery & House, London, UK
2002 Small Scale Work. Buckenham Gallery, Suffolk, UK
2002 Surface Tourist. Art House, London, UK
2002 Mini Print Exhibition. Art Link Exchange, UK
2001 Haringay Seventh Open Exhibition. Haringay, London, UK
2001 Printmakers Council Exhibition. The Royal National Theatre, London, UK
2001 Fresh Art. Business Design Centre, London, UK
2001 Philip Morris Malaysia Art Award Exhibition. National Art Gallery, Kuala Lumpur, Malaysia
2000 National Print Exhibition. The Mall Gallery, London, UK
2000 Chichester Open Art Exhibition. The Mall Gallery, London, UK
2000 Chongqing Print Festival. Chongqing Municipal Museum & Touring Exhibition, China
1998 National Print Exhibition. The Mall Gallery, London, UK
1997 National Print Exhibition. The Mall Gallery, London, UK
1997 Sight Unseen—A Four Day Event. The Tannery, London, UK
1997 4th Open Exhibition. Haringay, London, UK
1996 Open to Print 4. Reg Vardy Gallery, Sunderland, UK
1996 Art Aid Exhibition in associate with Marie Curie. London, UK
1996 Print Works 1996. Sir John Cass Faculty of Art, London, UK
1995 Print Exhibition. The Gallery, Cornwall, UK
1995 National Open Print Competition. Sunderland, UK
1995 Print Touring Exhibition. Sunderland, UK
Publication
2014 In A Place of Wonder (PDF Catalogue)
2009 An Indyllic Space (Exhibition Catalogue)
2006 Fact or Fiction (Exhibition Catalogue)
2004 1/1 (Exhibition Catalogue)
Artist Residency
2012 Chung Hwa High School, Muar, 26th May – 10th June 2013, Malaysia.
Workshop
2009 Artist's talk and printmaking workshop conducted for University Saint Malaysia, Penang, Printmaking workshop conducted for general public at Galeri Petronas, Suria KLCC, in conjunction with 'Go Block – Five Contemporary Malaysian Printmakers' exhibitions.
2008 Print making workshop conducted for visiting students from Central Academy of Art, China.
Art & Craft Fairs
2002 Autumn Art Fair, Landmark Arts Centre, Teddington, UK
2002 Battersea Contemporary Art Fair, London, UK
2001 Battersea Contemporary Art Fair, London, UK
1996 Glass & Ceramics Fair, Commonwealth Institute, London, UK
1996 The Studio Art Fair, Commonwealth Institute, London, UK
Public Collection
OCBC Bank Malaysia
Bank Negara Malaysia
Chongqing Municipal Museum, China
The Aliya and Farouk Khan Collection, Malaysia Providore, Malaysia
Park Royal Hotel, Malaysia
Tractors Malaysia, Sim Darby Group
Barclays Bank Singapore
Summerset Hotel, Ampang, Malaysia
Private collections
---